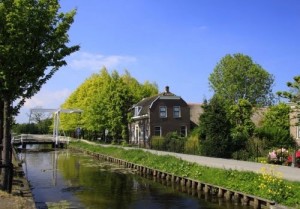 Welcome to House of Cocagne. The house is recently opened and has a luxurious suite with bedroom for two and a spacious living room.
Our position makes us a perfect base for touring Amsterdam, Utrecht or Rotterdam. We are 30 minutes away from Schiphol airport. Amsterdam City centre is only 20 minutes from our suite. Public transport is nearby at only one minute walking distance. An ideal base for touring and exploring this beautiful and peaceful typical Dutch village and the surrounding towns and countryside. Helping guests to unwind our service and excellent accommodation is guaranteed to make for an enjoyable stay.
Are you looking for a comfortable suite near Amsterdam with a personal touch? House of Cocagne offer high quality suite with a personalised service and friendly atmosphere. Our accommodation is an old farmer house which is recently (2015) renovated. Easily accessible and offering free off street parking, House of Cocagne is located in a quiet and green area in the green hart of the Netherlands.We have various facilities available as well as FREE wirelines broadband throughout the premisis.